Painted my nails on Saturday for a barbeque party at the beach.
A lovely pink base with golden flakes on top. Both polishes are from Etude House.
The picnic started at three but Marcus and I didn't arrive until five-thirty... and by that time our friends haven't eaten yet (as we thought they would have by then), so we took a walk by the shore. Around this time I also had a chance to catch up with my good friend Dia. It was a very pleasant, quiet evening. It felt great to sit at the dock with the waves lapping at our feet and the ocean breeze gently brushing against our cheeks.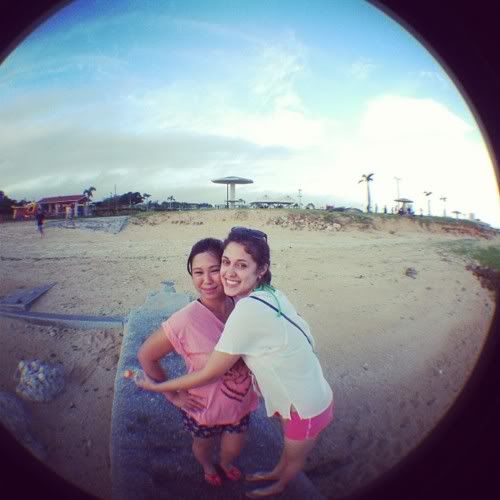 Dia and I at the beach. The scenery looks so unimpressive in this picture!
When it was finally time to eat, everyone gathered by the cottages and barbequed chicken teriyaki and fat hotdogs. There was cold pasta salad, too, and salsa with tortilla chips. There was rice, frothy mugs of coke and rootbeer... and lots of junk food.
Later, Marcus and I went home to cuddle on his couch. It was a great evening, and there was something even more heartwarming in our cuddles than usual.
Ah, summer nights.